Member Languages and Interpreters
Serving Members Better by Speaking Their Language
Treating the whole patient – not only their conditions – is a major component of delivering quality healthcare. Arizona Complete Health provides information and tools to help make that possible.
Member Demographics And Our Members
As of 2021, 26.6% of Arizona residents reported a language other than English, according to U.S. Census data. Arizona Complete Health identifies 15 non-English languages meeting a viable threshold among members in 2022. Arizona Complete Health's threshold languages include:
Spanish
Navajo
Chinese
Vietnamese
Arabic
Tagalog
Korean
French
German
Russian
Japanese
Persian
Syriac
Serbo-Croatian
Thai
Encourage your patients to self-report race, ethnicity, and preferred language when possible.
This helps you provide better whole person care, as well as providing valuable insight that can lead to identification and reduction of health disparities within our served populations.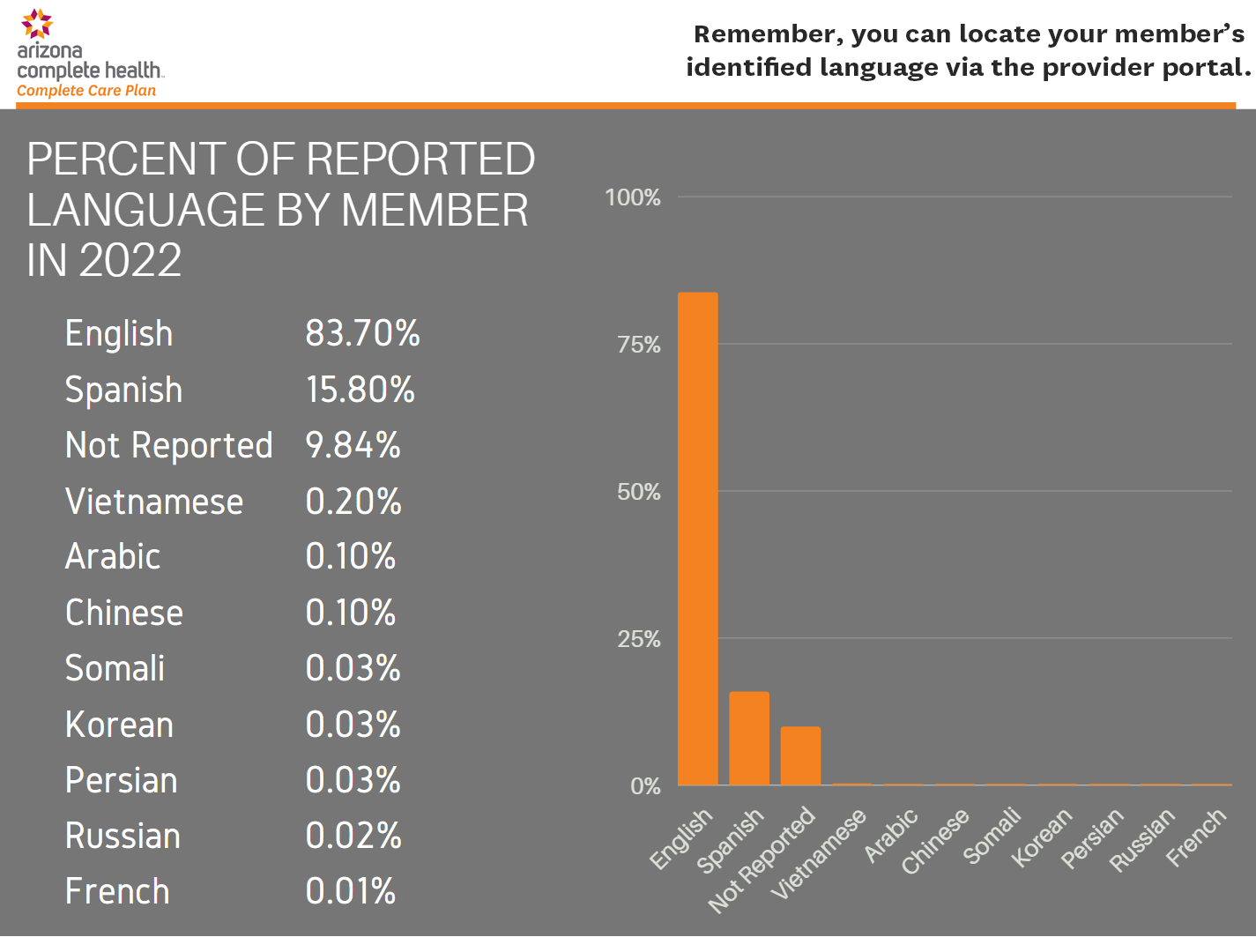 Working With Interpreters
Arizona Complete Health-Complete Care Plan offers telephone, face to face, and video face-to-face interpretation options. Information regarding interpreter assistance is available by contacting the Health Plan Provider Services Call Center number at 866-796-0542 (TTY/TDD: 711). For face-to-face requests, please make the request in advance of the appointment with as much notice as possible. At a minimum, the request should be 5 days out from the appointment to allow time for the vendors to meet the need. When calling, the following information is required:
Member name;
Member ID number;
Appointment date and time
Type of interpretation needed;
Language requested.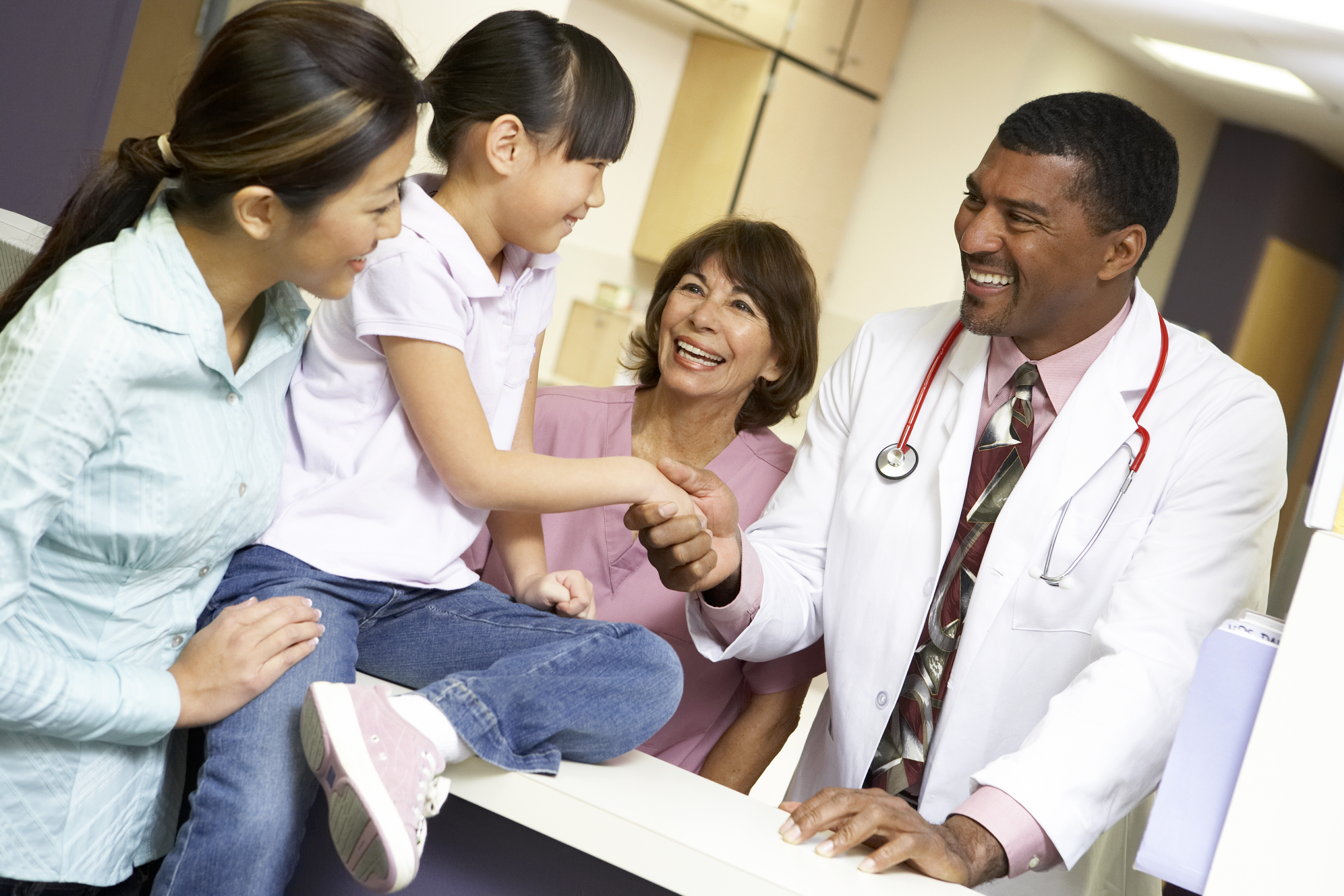 Arizona Complete Health has customer service representatives, at 1-866-918-4450 (TTY:TDD 711), who are available to speak to members/family members in their preferred language or will conference in an interpreter. The Provider Services Call Center, at 1-866-796-0542, also has the ability to conference in an interpreter, as needed.
Not sure of your patient's language? Go to our website and click on "Language Assistance" in the footer at the bottom of the page and have the member point to their language. If it's not listed, you can work with the interpreter service to identify the right language.
Using the speakerphone function is recommended for communication efficiency between you, your patient and the interpreter.
Providers must ensure that bilingual staff who act as interpreters are qualified and meet the quality standards, which includes documentation that the staff member's proficiency was assessed.
A Provider shall NOT require an individual with limited English proficiency to provide their own interpreter or rely on an adult or child accompanying an individual with limited English proficiency to interpret or facilitate communication. In addition, a Provider shall NOT rely on staff other than qualified bilingual/multilingual staff to communicate directly with individuals with limited English proficiency. Exceptions to these expectations include:
In an emergency involving an imminent threat to the safety or welfare of an individual or the public where there is no qualified interpreter for the individual with limited English proficiency immediately available.
Where the individual with limited English proficiency specifically requests that the accompanying adult interpret or facilitate communication, the accompanying adult agrees to provide such assistance, and reliance on that adult for such assistance is appropriate under the circumstances for minimal needs.
If an interpreter is offered and the patient declines, the provider should document this in the medical record.
For additional details, please refer to section 9.2 Cultural Competence System of Care Requirements within the Provider Manual.