My Health Pays® Rewards
Get rewarded for focusing on your health!
Earn My Health Pays™ rewards when you complete healthy activities like a yearly wellness exam, annual screenings, tests and other ways to protect your health.
Use Your My Health Pays rewards to help pay for:
Utilities
Transportation
Telecommunications
Childcare services
Education
Rent
Or, you can use them to:
Shop at Walmart for everyday items**
**This card may not be used to buy alcohol, tobacco, or firearms products.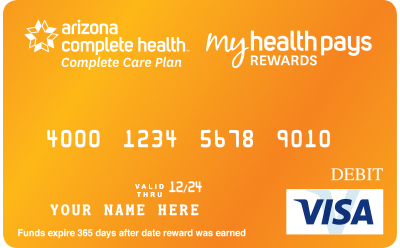 Healthy Activities Eligible for Rewards
Take healthy steps to earn My Health Pays™ rewards.
$25 - Flu Shot (Ages 18 and up) - Increase for the AHCCCS Roll Up Your Sleeve Campaign**
$25 - Infant and Well Child Visits (Ages 0-15 months. Child must receive at least six well child, EPSDT* visits prior to child's 15 month birthday)
$25 - Child and Adolescent Well Visit (Ages 3-21. Eligible for children and adolescents turning 3-21 annually when they receive their annual well EPSDT* visit.)**
$25 - Cervical Cancer Screening (Ages 21-64)
$25 - HbA1c Test (Ages 18-75)
$25 - Childhood Immunizations - Child must receive the required dosages by age 2 to earn $25 for each immunization:

Dtap (4 dosages)
IPV (3 dosages)
MMR
VZV
PCV (4 dosages)
$25 - Preventative Dental Visit (Ages 1-20)
*An EPSDT visit is a comprehensive wellness visit and is not the same as a sick visit or a physical
**Flu Shot Updates Effective 10/1/2021
**Well Child Updates Effective 1/1/2022
Your My Health Pays reward dollars are added to your rewards card after we process the claim for each activity you complete. If you are earning your first reward, your My Health Pays™ Visa® Prepaid Card will be mailed to you.
This My Health Pays Rewards Visa Prepaid card is issued by The Bancorp Bank pursuant to a license from Visa U.S.A. Inc. The Bancorp Bank; Member FDIC. Card cannot be used everywhere Visa debit cards are accepted.
Frequently Asked Questions
Find answers to many of your My Health Pays™ rewards program questions below:
Once you complete a qualifying healthy activity, we are notified, and your card will be mailed to you.  Remember to keep your card, as future reward dollars will be added to it for each qualifying healthy activity you complete.  If you have questions, please contact us at 1-888-788-4408.
Once you receive your My Health Pays™ rewards card in the mail, please follow the instructions on the activation sticker. You will need to have your card with you to complete activation. 
Funds expire 90 days after termination of coverage or 365 days after date reward was earned, whichever comes first.